---
About Us
Oak Bay Recreation Centre is considered to be one of the best recreation facilities in all of Greater Victoria. As a matter of fact, just last year (2011), it was the voted #1 recreation facility in all of South Vancouver Island. Whether you are looking for swimming lessons, drop in skating or fitness classes, Oak Bay Rec is the place to go to enjoy all sorts of recreational activities.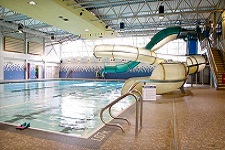 Offerings
When you are looking for fun things to do with your children and familiy, Oak Bay Rec Centre has so much to offer. Below are just a few of the lesiure activities that you can enjoy at Oak Bay Recreation Centre:
Aquatics

Skating & Hockey

Soccer
Highlights
Oak Bay Recreation has an ample number of amendities and below are some of the best to consider checking out next time you make a visit to the facility:
Two Swimming Pools - (Including two waterslides, a basketball hoop and rope swing)

Indoor Sports Field - (Designed for all outdoor sports including soccer, grass hockey and volleyball)

Fitness Activity Room - (1000 square feet including a full mirror)
Oak Bay Recreation centre is perfect for the person who likes to workout at anytime during the day as the facility is open from 5AM - 1AM everyday. For those of you who are night owls, you will want to take advantage of the $2 drop-in swimming that Oak Bay Rec offers after 11pm.
Location
Oak Bay Recreation Centre is located in the heart of the city of Oak Bay at 1975 Bee Street, very near to Fort Street and Foul Bay Street. Recreation Oak Bay host activities and events at several locations though including :