About
With a bullying epidemic sweeping the country, Sifu Eric aims to bring a means of gaining self confidence to help stop bullying. Scorpion School of Kenpo can help your child have and build the self confidence to do what is right and not be a bully or stand up to a bully if they need to. At the Scorpion School of Kenpo in Mountain View, California, we offer self-defense and martial arts classes in a safe environment. Instill self-confidence and discipline with our Kenpo techniques. Kenpo is a system designed and developed to defend yourself using what you have every day: your hands and feet. Kenpo Jujitsu is the practical essence of self-defense embodied in a system. Physically, a student is pushed to get stronger in his or her body and mind through learning and exercise.
Classes offered:
5-7 year olds on Saturdays 10:00 (Addition of classes for this age bracket based on interest for Tuesdays and Thursdays at 5:00).
8-13 year olds Monday - Thursday 5:45, Saturday 10:00
14+ years Monday - Thursday 6:30 & 7:30.
History
Scorpion School of Kenpo has been operating since 2005 as a small club where Sifu Eric has been training primarily adults. After tackling a Business Degree at night while working during the day, he opened Scorpion School of Kenpo to bring the curriculum to a timeslot accessible to children. With a desire to lend the same self confidence and focus as he learned, he opened the Scorpion School of Kenpo in October of 2011.
Programs Offered
Martial arts instruction focused in self defense and traditional forms with a standard belt system.
Private instruction in self defense.
Private instruction for those interested in competition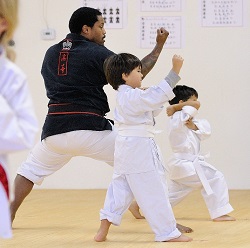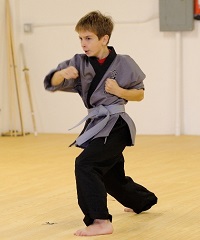 Interesting Facts
Sifu Eric started in martial arts at the age of 8 where he participated in tournaments, and convinced his bullies to leave him alone. Martial Arts was the direct guide to helping him focus and excel in school & college years later.