About
El Camino Youth Symphony (ECYS) is a 501(c)(3) nonprofit organization founded in 1963 by William Galbraith, a young maestro who envisioned an orchestra that would give young musicians the opportunity to perform challenging standard professional repertoire. Subsequent Music Directors include: Denis de Couteau, Nelson Tandoc, Arthur Barnes, Leroy Kromm, Charles Barber, and Melissa McBride. The current Music Director is Dr. Camilla Kolchinsky.
Membership is by audition. Students are placed in orchestras according to their achievement level. There are beginning, intermediate and advanced orchestras and ensembles. The orchestras rehearse and perform during the school year. In July there is a two-week Summer Workshop Program, open to non-members. The more advanced ensembles and orchestras have summer camps prior to the school year. The Senior Orchestra tours internationally every two years.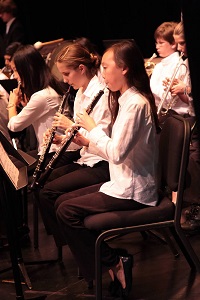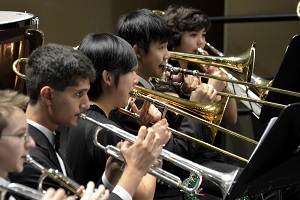 History
Currently celebrating its 50th Anniversary Season, the El Camino Youth Symphony (ECYS) is from Palo Alto, California, the home of Stanford University, about 35 miles south of San Francisco. Two core principles underlie the ECYS mission: Music Education, to nurture, train and develop young musicians from culturally diverse backgrounds and encourage a lasting appreciation of music, and Musical Excellence, to provide high-quality performance opportunities for young people and outstanding musical events for the wider community. More than 400 K-12 students from over 100 schools from San Francisco to Santa Cruz train and perform in five orchestras and four ensembles, led by the award-winning, internationally recognized Symphony Orchestra. Concerts, tours, retreats, summer workshops, masterclasses and music festivals form a vital part of the ECYS experience, creating opportunities for youth at all levels of musical experience to develop socially and artistically while participating in the Bay Area's foremost instrumental training and education program.
Interesting Facts
A vibrant repertoire challenges the young musicians to excel as ensemble and solo players. Annual performance series and tours meet critical acclaim and inspire local, national and international audiences. An ongoing program of performance and ticket outreach makes these programs accessible to a diverse community of underserved youth, families and seniors.
An internationally recognized artistic faculty supports the young musicians, who also have opportunities to perform in collaboration with soloists of international stature. ECYS musicians receive mentoring and coaching from a distinguished roster of professional musicians and conductors dedicated to opening the world of orchestral music to the next generation.
Each season more than twenty outstanding student concerto competition participants are awarded performances with ECYS orchestras.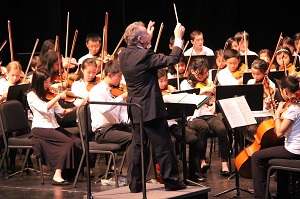 Connection to Community
ECYS offers scholarships to students who demonstrate financial need. In addition, the different ensembles participate in various outreach and educational programs designed to bring music to the community.
Parents are encouraged to volunteer and join the enthusiastic and active committees that support ECYS.
ECYS receives significant support from the local business community.
Location
The ECYS office and all rehearsals are located in Palo Alto. The rehearsals take place at Cubberley Community Center and JLS or Terman Middle Schools.
Concerts are performed in various halls throughout Silicon Valley, including the Menlo Atherton Performing Arts Center, the Schultz Cultural Arts Hall and Flint Center at De Anza College.