About Us
Stroller Hikes is a 501-c-3 nonprofit educational organization created to make public baby-friendly outdoor fitness and education areas and opportunities in the San Francisco Bay Area. At StrollerHikes, you will find fully described outdoor locations including extensive photographs of hike attractions and trail conditions, information about exercising with babies including safety precautions and equipment advice, and other outdoor information. Free events occur every week!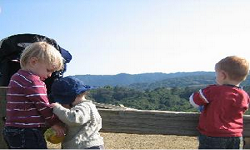 Mission
The primary objectives of StrollerHikes are:
To provide education for the general public through an informative website about hiking, running, biking, swimming, and other outdoor activities for families with children in strollers.

To ...
!-->!-->!-->!-->!-->!-->!-->!-->!-->